Welcome to

Call us for a free consultation 650-591-1002
Chiropractic care that is right for you can be hard to find. Located in the heart of San Carlos, Bayside Chiropractic is dedicated to helping you achieve optimum health. Dr. Eva Chiu is a local chiropractor who practices several chiropractic techniques and also specializes in sports rehabilitation. Our patients range from 3 months to age 80, with symptoms from headaches, back pain to shoulders, hips and knee pain. We combine chiropractic care and rehabilitation techniques to create a personal program for you, helping you get well faster to do the things you enjoy.
Patients seeking chiropractic care and treatment with Dr. Chiu are assured of receiving only the finest quality care through the use of modern chiropractic equipment and technology. Bayside Chiropractic has a genuine concern for your well-being!
If you are new to our website, please feel free to discover and learn about chiropractic care and wellness. If you are interested in starting your journey towards wellness please subscribe to our award-winning newsletter. If you are already a newsletter subscriber, please explore the member wellness section of our website for chiropractic care articles, resources, and health facts---specifically targeted by the chiropractor to your chiropractic care needs and interests.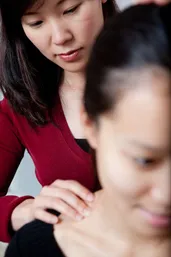 It's Your Life... Live healthy!